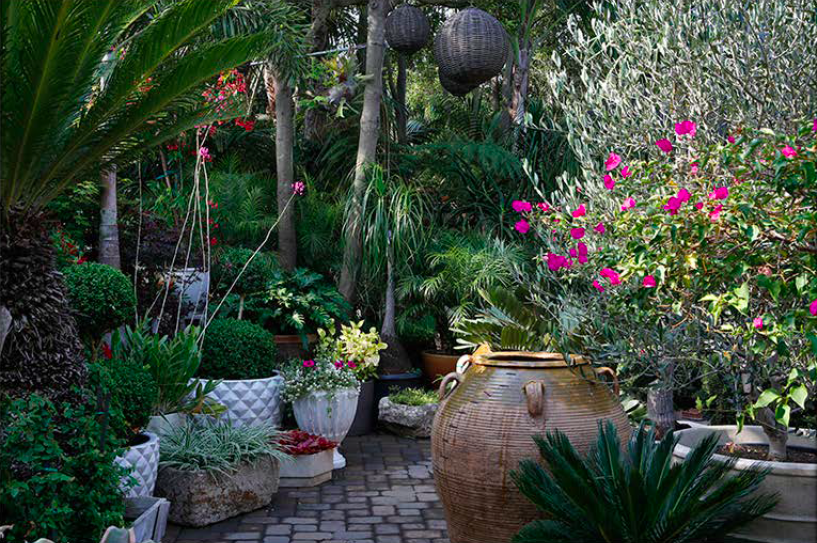 Los Angeles designers and clients have come to love our Culver City showroom, and now we have another location right in the heart of Malibu.
For the past forty years, Nagel Nursery on Busch Drive in Malibu has been a destination for Los Angeles-area plant lovers. Now that Inner Gardens has hung a shingle here, the nursery will expand to offer the full-service design, installation, and maintenance you've come to expect from Inner Gardens. You will also find our collections of antique, vintage, and new planters, as well as furnishings and accessories.
The 1.3-acre nursery offers 20,000 square feet of greenhouses, including a 25-foot tall greenhouse, one of the tallest in southern California. I'm especially pleased about this because it means I can carry full-size specimen trees. Very few places in town can provide such towering plant features that dramatically enhance the landscape. In the past it's been a waiting game: we install younger trees and hedges and wait for Mother Nature to do her magic.
The waiting is over: our clients will enjoy more mature plantings than ever before.
Nagel Nursery specialized in tropicals imported from Hawaii and Florida. We will continue to carry these but look for an expanded range of plant offerings that includes many Mediterranean plants such as olive trees, lavender, and rosemary. All of these high-quality plants will be selected and grown for the discerning buyer.
6432 Busch Drive Malibu, CA 90265
310-457-9091
Monday through Friday, 8 a.m. to 4 p.m; Saturday 8 a.m. to 12 p.m.