Q: How can I add color to my garden without going with traditional flowers? –Tricia, Raleigh, NC
SB: One of the great ways is through fruits and berries, particularly blueberries. What's great about them is that they're not only ornamental—there's nothing better than eating blueberries fresh off the vine. They're wonderful, and they don't taste anything like the ones you buy at the supermarket. They're a bit tart—hard and crisp, and they pop in your mouth.
You'll find them in the spring in nurseries, so take some home and pot them off (or buy them potted at the nursery, and check that they've been rooted out in the soil). If you want to start from seed, now is a good time, as some varieties of blueberry seeds take three months to germinate. Once your seedlings are substantial enough and the weather is right, plant them in the ground or in pots. Your best bet is choosing three to four different varieties and planting in mass.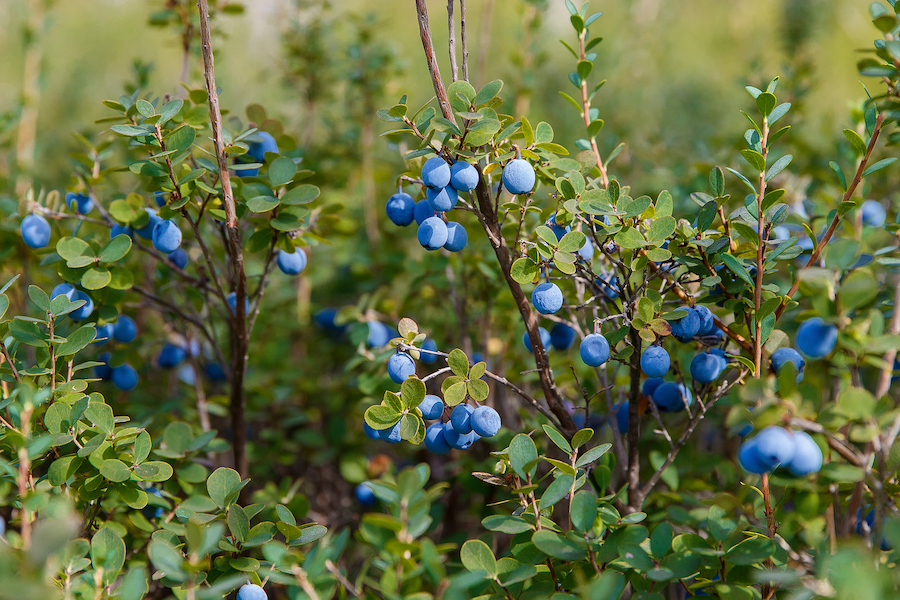 More is better, and in this case that means better pollination and better fruit. Even if you don't have a lot of space and are putting them in pots, get 5 pots and put them really close together. They grow into a shrubby-type bush that can grow to 5 or 6 feet if you allow them. But they're completely controllable through pruning if you're keeping them in a small garden, or in pots. They also grow across almost all climate zones, and there are new varieties that have been developed that require less than 500 hours of cold—so they can bloom and fruit profusely here in Southern California, and other warmer locales.
Blueberries want a high acidic soil, so add high-acid fertilizer to keep the ph somewhere in the neighborhood of 5-6. Going into Fall, you'll want to stop that fertilizer and allow them to go dormant.
The other thing about blueberries, they like a lot (and I mean, a lot!) of water. Make sure to keep them very damp at all times.
Why else are blueberries a good choice?
Well, they're controllable, no spines like blackberries or raspberries. Those are ramblers and they get really big and wild with thorns all over. Blueberries are also very kid-friendly—kids love the little pink and white flowers almost as much as the fruit. Really, the only problem you'll run into with blueberries is that you're not going to have enough. If you can plant 30, you're much better off.
---
My Favorite Blueberry Crumble
Throw 1 teaspoon each of sugar, flour and orange juice over 3 cups of blueberries, and line the bottom of a baking pan. Combine 1⁄2 cup each of rolled oats and nuts, plus 3 tablespoons brown sugar, 2 tablespoons flour, and sprinkle with cinnamon. Drizzle 2 tablespoons canola oil, and sprinkle over blueberries. Bake at 400°F for 20 minutes, and let stand 10 minutes.
Serve to guests and remind them that the blueberries came straight from your garden!