Ashley Tisdale in Wonderland….
A Hidden Oasis
In a secluded garden nestled in the Hollywood Hills, we had the privilege of visiting the home of accomplished entrepreneur, actress, interior designer, and devoted new mother, Ashley Tisdale. As Ashley embarks on her third home renovation project, she turned to Inner Gardens Creative Director and Stylist Jana Feifer and Landscape Designer Stephen Block to design and enhance her vision of wonderland.
Photography by Michael Clifford
Ashley in her enchanting courtyard featuring a hand-crafted Redwood table and antique French spring chairs
As we entered through the gates of Ashley's Los Angeles home, we were immediately greeted by lush greens and a magical landscape hosting a variety of trees. Jana vividly recalls the moment she stepped into the garden entry: "As soon as I walked in, I just thought that the garden was just so beautiful with all the bamboo and citrus trees." She then noticed a charming brick circular patio area waiting to be brought to life, and with the serendipity that often accompanies inspired design, Jana & Stephen had just the right piece in mind: "We just so happened to have this redwood table that would be a perfect addition." Block adds, "The table is a California redwood that was hand-built. The thing that really sold me when I bought it was that the centerpiece is a lazy Susan, and you just don't see that anymore."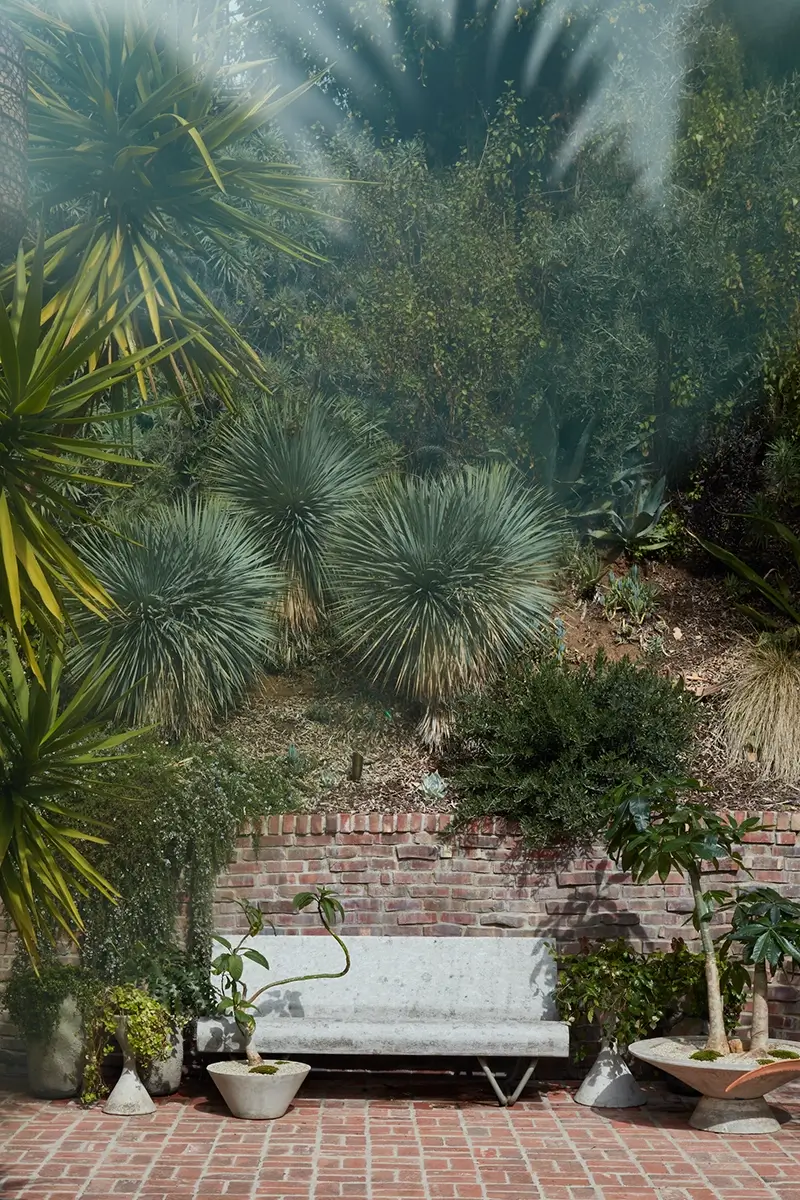 An André Lasserre-designed garden bench surrounded by vintage Willy Guhl planters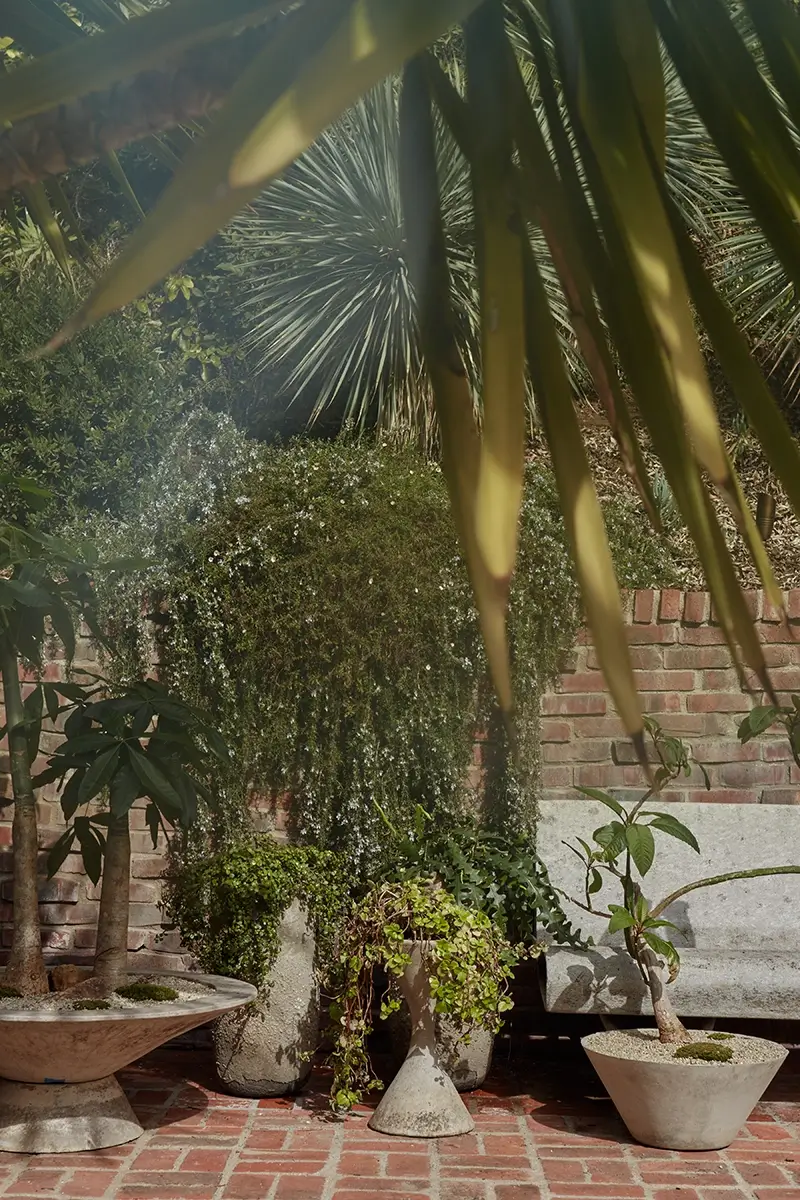 Willy Guhl planters with rare plant species
To complement Ashley's love for mid-century design, Jana added outdoor accessories and furniture by renowned Swiss designer, Willy Guhl. A collection of Guhl's planters, including his Tapered Low Bowl and highly coveted Diablo Planters, are gracefully arranged around an André Lasserre-designed garden bench, displaying an assortment of exquisite and unusual plant species. Vintage Chinese lanterns were hung from sculptural trees to create mood lighting.
A rare mid-century redwood dining table with lazy Susan is a focal point in the courtyard with antique French spring chairs surrounding the table. Mid-20th century cranes complete the space.
Ashley's office, which overlooks the garden, offered another opportunity for creative design. "The windows are floor to ceiling and they actually open so it feels like the room is in a treehouse." Jana remarks. This observation led to sourcing vintage hand-carved Naga wood planters, known for their tactile and organic qualities. A curved Cussonia plant chosen for the room harmonized beautifully with Ashley's other mid-century modern pieces. On the opposite corner rests a wooden slag planter with a whimsical Schefflera. Ashley remarks, "The space is very chic but also healing and grounding."
Reflecting on her creative process and the inspiration behind the photoshoot, Jana underscores Inner Gardens' exceptional ability: "Inner Gardens creates these beautiful spaces that transports you to another place and time." Jana wanted to showcase that quality in unison with portraying Ashley in a different perspective, "I wanted her to be photographed in the light I know her as in this stage of her life – as an interior designer, entrepreneur, and Mom. I think this photoshoot reflects that."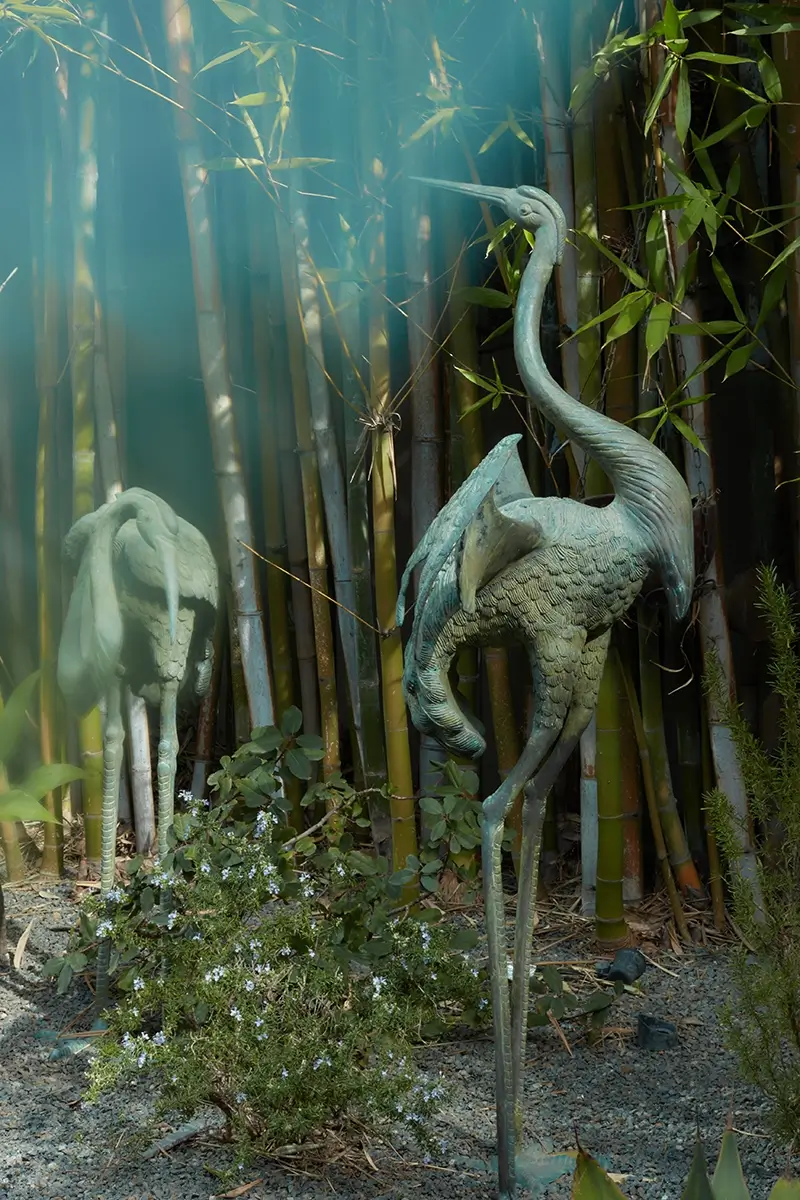 A pair of mid-20th century crane statues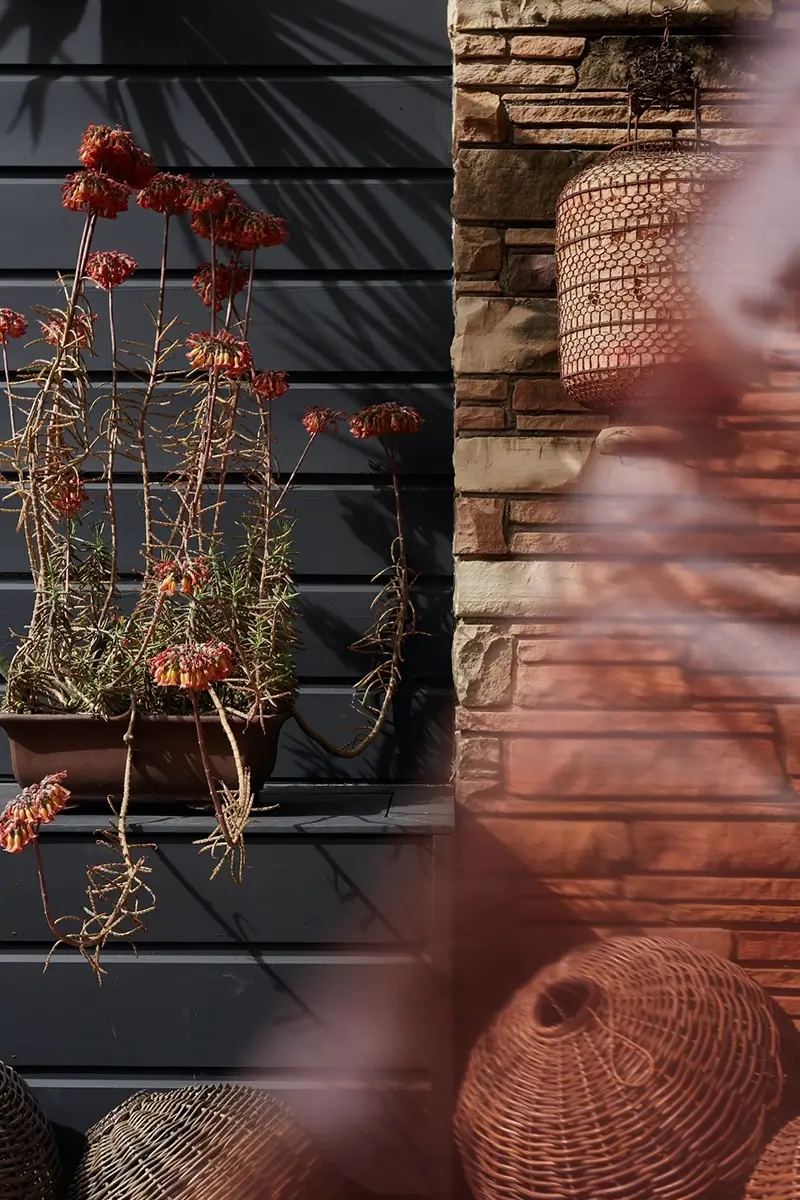 Antique Chinese Lanterns styled with a rare succulent species
Ashley muses on how plants and trees have provided her with a source of solace and grounding during her most challenging times. For her, plants are not just a decorative element, but an essential component of the home. She reveals, "A room isn't done until an Inner Gardens tree comes into the house. It's something that finishes off the space beautifully. It brings the outside in, which feels good."